Science2Start – Good ideas deserve a chance
We believe that the life sciences scene in the STERN BioRegion has a lot to offer: it holds enormous potential. The region's life sciences laboratories hold a high potential of creative ideas that can hold the key to promising start up companies. With Science2Start we therefore accompany the whole process of business development starting at the business idea to the point of self-employment.
Science2Start – ideas competition
In our annual Science2Start-ideas competition young scientists and founders from the Life Sciences sector in the STERN BioRegion are called on to put their business idea to the test. All submitted sketches of ideas are tested for their academic excellence and their economic potential. As a participant you will always receive a professionally sound feedback from the panel of experts. The top three concepts submitted will receive a monetary prize and are honored at a ceremony and in the presence of numerous decision-makers from industry, research, policy and the financial sector.
In 2021, we will again be honoring the ideas of founders and scientists for their great economic potential in the Science2Start ideas competition.
Do you also have an idea?
Then send in your Application by September 30, 2021 - we are waiting for your idea.
The award ceremony will take place during the 20th anniversary celebration of BioRegio STERN Management GmbH on December 6, 2021.
Important: In order to participate, the application form and the consent form must be completed.
Further informations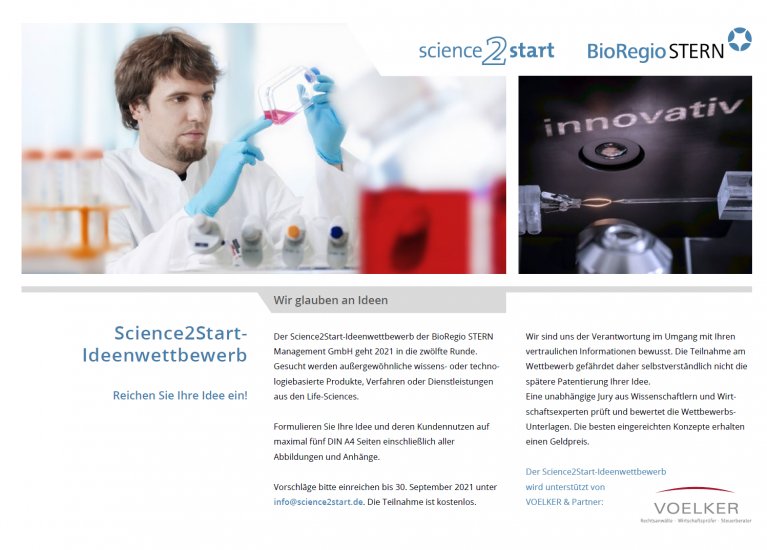 For more information on this year's Science2Start 2021 competition, please take a look at the brochure.
/en/node/5042
Science2Start is sponsored by