06/11/2021 | News
Air to live: Innovative ways to reduce the risk of contamination in buildings
The issue of indoor air quality has become enormously important in connection with the current pandemic situation. On June 9, 2021, BioRegio STERN Management GmbH therefore provided information in a one and a half hour online seminar about various approaches to measuring, simulating and reducing the spread of aerosols. Innovative solutions for reducing the risk of contamination in buildings were presented in four keynote speeches. The 26 participants received in-depth information on what approaches there are to ensure the quality of indoor air in the workplace.
At the beginning, Dr. Stefan Schumacher from the Institute of Energy and Environmental Technology e.V. (IUTA) explained how aerosols are made and how they behave in space as well as in contact with objects such as protective masks. He cleared up various misunderstandings about aerosols and pointed out that aerosol particles are very variable and highly dynamic. Viruses get into the air through exhaled particles and could linger there for a long time. However, they are subject to dynamic changes and could also be guided in this way.
To understand how viruses spread locally in buildings and rooms, the visualization of air currents can help. The expert for fluid simulations, Christian Barthel from Dassault Systémes Deutschland GmbH, demonstrated these flow simulations using real examples from the clinical sector. Scientifically based simulations showed the pathways of particles and the changes caused by solar radiation or the opening of windows. In this way, dangerous spots could be anticipated and the setting modified on site in order to reduce the risk of contamination.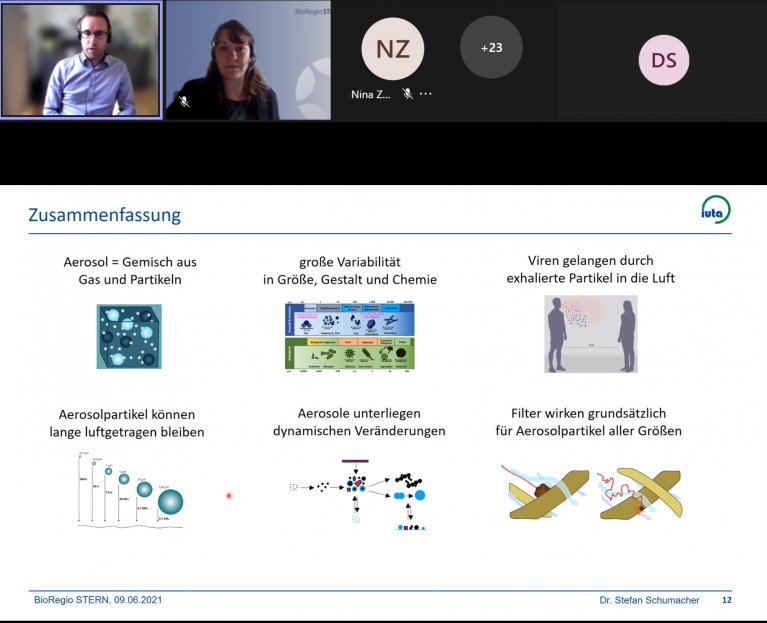 Photo: Diana Schwarz-Dermann/ BioRegio STERN Management GmbH
Dr.-Ing Udo Gommel from Fraunhofer IPA Stuttgart and apl. Prof. Dr. Susanne Bailer from Fraunhofer IGB Stuttgart presented the Corona advisory center for Baden-Württemberg entrepreneurs. This was created as part of the Healthy Air Initiative, which was decided by the Council of Ministers of the Ministry of Economics, Labor and Housing Baden-Württemberg in December 2020 due to the Covid-19 pandemic. Companies can get advice on cleaning the room air here. Manufacturers of room air purifiers receive advice on the requirements for the devices through to the necessary evidence of effectiveness. In addition, background information on the spread of the Sars-CoV-2 virus via the indoor air to indoor air purification technologies and their application is provided.
Last but not least, practical examples for monitoring air quality as part of Covid-19 risk prevention were presented by Christian Becker, the managing director of FREESIXTYFIVE GmbH. The company Freesixtyfive [JF1] uses the CO2 concentration as a guide for healthy indoor air and has created an app that, in conjunction with CO2 sensors, issues warnings if the CO2 concentration is too high. The app can even be used to control the automatic opening of doors and windows if the CO2 concentration is too high.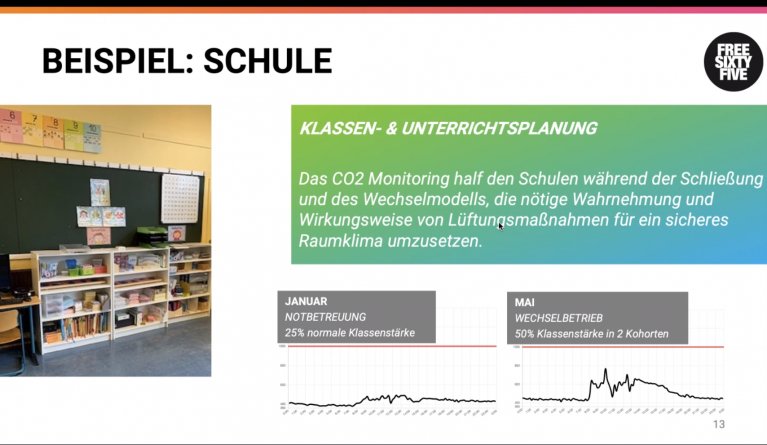 Photo: Diana Schwarz-Dermann/ BioRegio STERN Management GmbH
Source:
BioRegio STERN Management GmbH