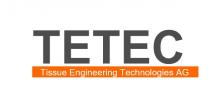 TETEC AG
Development of new methods for the treatment of complex damage to and disease of the human skeletal and locomotor system
TETEC was initially founded as a limited liability company (GmbH). In 2003, TETEC® was converted into a joint-stock company (AG). "TE" stands for tissue engineering and "TEC" for innovative technologies.
TETEC AG holds a manufacturing permit in accordance with §13 Para.1 German Drug Law (AMG) for its autologous cartilage cell products NOVOCART, NOVOCART 3D and NOVOCART Disc. NOVOCART is an autologous chondrocyte preparation while NOVOCARD 3D is a combination of autologous cartilage cells and a bi-phasic, three-dimensional, collagen-based matrix. NOVOCART 3D is ideal for the biological reconstruction of articular cartilage defects. NOVOCART Disc is a high-quality, autologous cell preparation for the biological reconstruction of partially-damaged intervertebral discs following a slipped disc.
ADCT (Autologous Disc Cell Transplantation; the transplantation of in chondrocytes from autologous disc tissue that have been cultured in vitro) is the only method that facilitates the biological reconstruction of partially-damaged disc tissue before widespread degeneration occurs. The cultured cartilage cells, isolated from the biopsy material, induce the desired biological reconstruction.
Contact
Contact person
Akiko Maeno