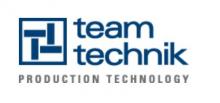 teamtechnik Maschinen und Anlagen GmbH
Innovative automation solutions, assembly- and functional test systems for medical devices
Based in Freiberg/Germany, teamtechnik has been developing and building intelligent and reliable automation solutions for 40 years. The company is considered an international leader in highly flexible production technology.
teamtechnik has specialized in a clearly-defined product program and has deep product knowledge and reliable process solutions for injection systems, inhalers, POC/diagnostics systems, plastic assemblies, dialysis filters and eye care products.
The international company provides efficient and cost-effective solutions to support any device program - from semi-automatic machines for proof of principle through fully-automated systems operating at 0.5 second cycle times for high-volume production.
With a total of 700 employees teamtechnik achieves sales of over €130 million. The teamtechnik group has production sites in Germany, Poland, China and the USA and offers worldwide support and service.
Contact
Contact person
Uta Straube