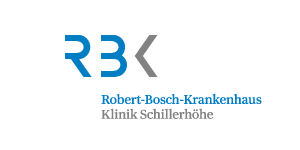 Robert-Bosch-Krankenhaus GmbH
Robert Bosch Krankenhaus – Klinik Schillerhöhe – Klinik Charlottenhaus
The Robert-Bosch-Krankenhausl is a Foundation Hospital, which dates back to a private initiative of Robert Bosch from the year 1936th. Owner of the hospital, which was opened in 1973 at its current location on Burgholzhof, is the Robert Bosch Stiftung. The foundation and governing bodies of the hospital determine the medical-therapeutic and nursing orientation. The Foundation allows medical research and in individual cases funds innovative, not otherwise covered investments. Since 1978, the Robert Bosch Hospital is one of the academic teaching hospitals of the University of Tübingen. With 1,018 beds, together with its facilities at Schillerhöhe Hospital in Gerlingen and Clinic Charlotte House in Stuttgart it treats over 42,000 inpatients per year. Some 2,700 employees ensure that patients feel individually cared for.
Schillerhöhe Hospital
Breathing is a basic need of nature. Besides pain shortness of breath is one of the most unpleasant sensations of man. The Schillerhöhe Hospital specializes in the treatment of patients with respiratory diseases. Every year nearly 9,000 inpatients are served with medical expertise and human empathy. The clinic is located in Gerlingen near Stuttgart, surrounded by nature and forest near the Schloss Solitude.
Clinic Charlotte House
The Clinic Charlotte House is specialized in gynecology and plastic-aesthetic surgery hospital. The merger with the Robert Bosch Hospital in Stuttgart expanded the range of diagnostic and treatment options.