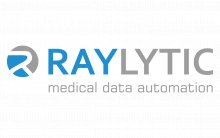 RAYLYTIC GmbH
RAYLYTIC automates the execution of clinical trials, clinical and PMCF studies through software-based processes and using state-of-the-art AI algorithms for image analysis.
RAYLYTIC GmbH is an ISO 13485 certified manufacturer of medical software with a focus on the development of software used in clinical trials. RAYLYTIC's cloud-based science platform UNITY combines functions from the areas of study management, data acquisition and the extraction of parameters from clinical image data using artificial intelligence.
As of May 2020, the Medical Device Regulation (MDR) requires a much more in-depth coverage of the performance and safety of medical devices, requiring the collection of very granular medical data. UNITY was developed to meet the substantial increase in related costs, time and effort. The platform has been in daily routine use in clinical trials within Germany, Europe and the US since 2016. UNITY is multilingual, GCP-compliant and easy to use.
Contact
Contact person
Frank Trautwein