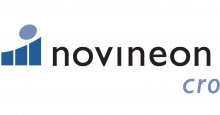 novineon CRO GmbH
Your product and our experiance in clinical and regulatory affairs – We level your path to CE confirmaty and beyond.
novineon CRO is a leading service provider for research and regulatory affairs. For two decades we have been supporting manufacturers of medical devices and in-vitro diagnostics (IVD) in clinical and regulatory affairs related to conformity issues, e.g. clinical evaluation and clinical trials.
Demands on the performance of medical devices and medical procedures are continuously increasing. Collaboration with a CRO (contract research organization) can be a decisive competitive advantage in that it minimizes the need for research and exposure to regulatory issues. 
Together with you, we develop individual and practical solutions for biological evaluation, risk analysis, performance evaluation for IVDs, PMCF/PMS as well as product registration in non-European markets. We cooperate with a team of consultants consisting of recognized clinical specialists and thus offer expertise in the entire range of medical devices.
Our long-standing customers appreciate our proven and documented methods.  We are certified according to ISO 9001.
Contact
Contact person
Dr. rer. nat. Marion Fehlker; Dr. rer. nat. Timo Weiland