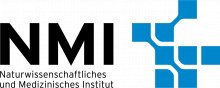 NMI Natural and Medical Sciences Institute at the University of Tübingen
Applied Research and Development at the Interface of Life Sciences and Materials Sciences
The NMI is a member of the Innovation Alliance Baden-Württemberg. It is involved in application-oriented research at the interface between the life sciences and material science. An interdisciplinary team of scientists is developing new technologies for companies and public research sponsors in the areas of pharma and biotechnology, biomedical technology, and surface and materials technology.
Our commitment, professionalism and flexibility are visible in all areas of our work. We manage projects from start to finish – from the planning stage, through to evaluation if required. Our portfolio also includes subprojects and individual services such as consulting, technology assessment, applying for funding, and conceptual planning and coordination of projects. We also offer accredited testing services.
Do get in touch – we'll find a solution!
Contact
Contact person
Dr. Pauline Jeckel
News
13.12.2021
A successful result – 14 research and development projects worth a total of 9 million euros have been approved
03.07.2020
NMI in Reutlingen supports study with reliable detection method
25.03.2020
The NMI Natural and Medical Sciences Institute at the University of Tübingen is focusing its research efforts into infections with the novel coronavirus (SARS-CoV-2). The NMI is…