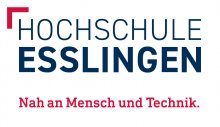 Esslingen University
For people and technology.
Esslingen University of Applied Sciences provides academic training and education in the fields of technology, economics and the social sciences.
Excellent teaching, combined with high practical relevance, has a high priority at Esslingen. The University of Applied Sciences is also strong on applied research and, thanks to its doctoral programs, is able to offer graduates an extended scientific career.
It is no wonder, then, that Esslingen is consistently to be found among the best universities of applied sciences in Germany in numerous national ranking tables.
At Esslingen University, around 6,300 students are enrolled on 28 Bachelor's and 14 Master's degree programmes. They enjoy the use of over 55 modern laboratories at the University's three campuses – the city centre and hilltop campuses in Esslingen and the Goeppingen campus.
Contacts to industry have traditionally always been very close, as the University is situated in one of the economically strongest regions of Germany. Its partners include large international concerns as well as regionally based medium-sized companies. Thanks to a large number of interdisciplinary projects – especially with companies – technical and social developments can be very quickly responded to.
Esslingen University's campus is international. There are exchange programs with 90 partner universities throughout the world.
The Faculty of Science, Energy and Building Services at Esslingen University offers a seven-semester biotechnology bachelor' s course, including a practical course in an industrial company. It confers basic chemical and physical knowledge and a well-founded theoretical and practical training in the areas of biochemical engineering, molecular, micro- and cell biology, biochemistry, analytics and diagnostics, quality assurance and project management.
Compulsory optional subjects focus on bioprocess and systems engineering, physical bioanalytics, and molecular biotechnology.
Contact
Contact person
Christiane Rathmann