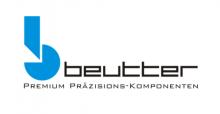 Beutter-Präzisions-Komponenten GmbH & Co. KG
A partner for the supply and development of fine mechanical components, a specialist in manufacturing highly complex assemblies in small production runs
Beutter is an international supplier of fine mechanical components and its main areas of activity include mechanical engineering, medical technology, aerospace, military engineering, hydraulics, optics, measuring technology and analysis technology.
The company's activities in the field of medical technology involve manufacturing individual components and assemblies for medical instruments and implants (surgical and dental technology).
Manufacturing processes are based on design documentation and drawings supplied by customers. Beutter is keen to work with companies, universities and medical practitioners to help develop and design products and prepare them for production.
The company's quality management system is certified to DIN EN ISO 9001, DIN EN ISO 13485 (medical products) and DIN EN 9100 (aerospace).
Contact
Contact person
René Meier