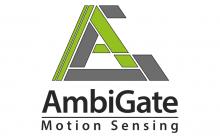 AmbiGate GmbH
Innovative 3D Sensor Solutions in eHealth with a Germany-Wide Network
AmbiGate GmbH is a start-up launched by the University of Tübingen and funded by the German Federal Ministry for Economic Affairs and Energy (BMWi). It specialises in innovative motion recognition and analysis with the aid of 3D sensors. The purpose of its main project, eReha, is to develop a 3D-sensor-based therapy system for use in the home and in corporate healthcare environments. Cutting-edge AI and sensomotoric algorithms play a pivotal role here, making it possible for the first time to quantify progress made during therapy. This enables therapists to significantly improve the therapy's efficiency. Health insurance companies, clinics and the largest therapists' association are already supporting the project.
The open-source system will be available nationwide and allow other companies to offer eHealth products quickly and cost-effectively via the extensive eReha network. The modular system is so flexible that such products need not necessarily be based on motion analyses. The network provides the medical infrastructure, including compliance with data protection guidelines, certifications and security aspects. To speed up the development process, companies will also have access to the toolboxes already developed by eReha.
In the area of corporate healthcare, the company is always on the lookout for interested firms that want to tackle this issue with an approach that is both innovative and cost-effective but also motivating. In this respect, AmbiGate has already managed to win a major automotive supplier from Southern Germany as one of its partners.
In addition, the company shares its knowledge of implementing innovative human machine interfaces as a service. This is not restricted to the health market, but is also possible in areas such as innovative marketing solutions or within the scope of Industry 4.0 projects.
Contact
Contact person
Stephan Dabels – s.dabels@ambigate.com