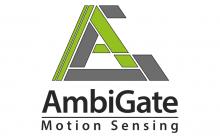 AmbiGate GmbH
Innovative 2D & 3D sensor solutions in eHealth
AmbiGate GmbH is a spin-off of the University of Tübingen focusing on innovative motion detection and analysis using 2D and 3D sensors.
The main project is the AmbiCoach, a health app not only for private but also for corporate health.
Specialized on back health the app uses the smartphone camera data to detect the user's movements and provide feedback on the quality of movement execution. For the first time, therapy progress can be quantified by innovative AI and sensorimotor algorithms.
This increases the efficiency of health training significantly.
Health insurance companies, clinics and Germany's largest therapy association are already supporting the project.
As far as corporate health care is concerned, AmbiGate is always looking for interested companies that want to aim the subject with an innovative, cost-effective, but also motivating approach.
In addition, the company shares its expertise in the implementation of Human Machine Interfaces as a service. This is not limited to the health market, but also possible in various regards such as innovative marketing solutions for Industry 4.0 projects.
Contact
Contact person
Caroline Dabels