(Stuttgart) – The new map from BioRegio STERN Management GmbH offers an up-to-date overview of companies, institutes and service providers in the life sciences sector. It includes over 400 profiles spread across the categories of biotech, medtech and engineering. The digital health/IT sector is also represented for the first time.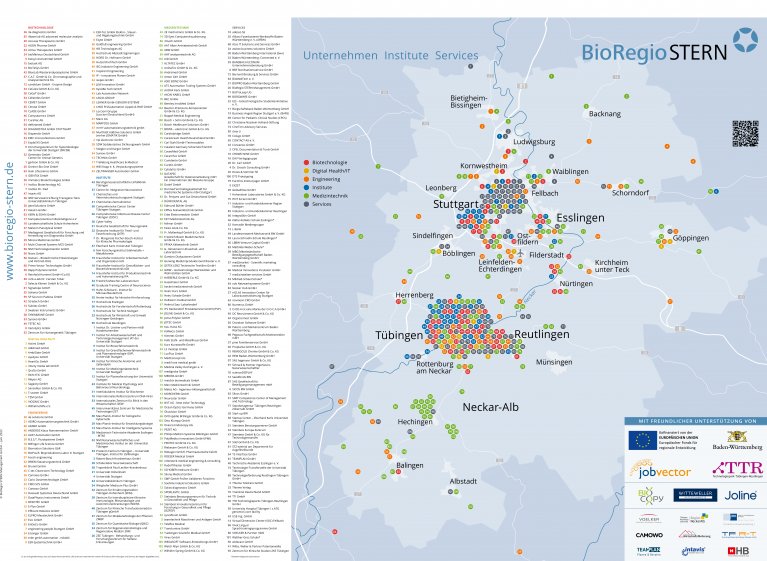 Copyright: BioRegio STERN Management GmbH
For more than 20 years, BioRegio STERN Management GmbH has been successfully promoting economic development in the life sciences sector in the Stuttgart and Neckar-Alb regions. Its new map provides an overview of companies and institutes from the biotechnology, medical technology and engineering sectors, with digital health/IT now incorporated for the first time, too. The map is also available online and enables digital access to an interactive company database. Users can make direct contact with cooperation partners, employers, suppliers and service providers on the basis of detailed company profiles. "With over 400 profiles, there are numerous collaboration options to discover. We are delighted that the number has increased significantly in recent years, especially in the engineering category. This map offers impressive proof that the STERN BioRegion is on a growth trajectory," says the company's Managing Director, Dr. Klaus Eichenberg.
You can download the press release as a pdf here
When publishing, please ensure that the copyright information is correct.
Source:
www.bioregio-stern.de