06/15/2022 | BioLAGO e.V. – das Gesundheitsnetzwerk | News
Purposeful Digitalization for the Patient
D-Berlin I The consortium of the nationwide innovation project AIQNET met in Berlin to present and discuss selected project contents and progresses. The project partners, including renowned hospitals, medtech companies and IT experts, focused on the patient as a central player in modern healthcare.
 
In the AIQNET project an open, digital ecosystem is being created that transfers medical data into an uniform standard and, enriched by AI-based evaluations, makes it usable for research, diagnosis and treatment. The project is funded by the German Federal Ministry for Economic Affairs and Climate Action. For the first time since the pandemic, the project partners were now able to meet again in Berlin, including participants such as Charité Berlin and other hospitals, medtech manufacturers, software and IT specialists, and experts in the field of medical certification.
"I am delighted that consortium partners from all over Germany have come together in Berlin for our meeting to highlight the many aspects of digital healthcare. It is remarkable for all partners to see the progress that has been made in all working groups. For example, we were able to get a good impression of how an operating room networked between devices and HIS (hospital information system) data. It supports the physician during his work steps, e.g. by linking and interpreting live neuromonitoring data with vital parameters during the surgery and by enabling event-based reactions such as switching devices and instruments on or off," explains Frank Trautwein, consortium leader in the AIQNET project and managing director of RAYLYTIC GmbH.
Prof. Dr. Sylvia Thun, Director, Core Unit eHealth and Interoperability (CEI) of the Berlin Institute for Health Research (BIH) at Charité Berlin, was also among the participants. In March 2022 Prof. Dr. Sylvia Thun was awarded the Federal Cross of Merit on Ribbon of the Federal Republic of Germany for her many years of dedication to improve communication standards in healthcare. "Digitization in medicine and the creation of interoperability for better healthcare are close to my heart. I am convinced that medicine will improve through intelligent networking and therefore I am pleased that the AIQNET project is creating a digital ecosystem that will enable the evaluation of clinical data while taking data security into account. I see this as a great opportunity for better patient care in the future," says Prof. Thun.
But without the self-determined and active participation of individual patients, an exchange of clinical data is not possible. It therefore quickly became clear among the AIQNET project partners that the patient as the most important element of healthcare must be given greater focus. Mina Luetkens, who advocates for patient empowerment in healthcare through her nonprofit organization Patients4Digital, spoke on this topic. "Our goal is to overcome the hurdles of digitization through a new and more self-determined role for citizens, also in the area of secondary use of data, and to finally help shape a transformation towards a people-oriented healthcare system 4.0. To achieve this, an exchange between different stakeholders such as hospitals, physicians, patients and manufacturers must be promoted in order to jointly shape the healthcare system and advance the digital transformation in medicine for the benefit of the patient. That's why our organization Patients4Digital is particularly keen on an exchange with the AIQNET consortium project," says Mina Luetkens.
By the end of the funding period, the consortium partners will establish AIQNET as a digital platform for the interdisciplinary exchange of clinical data and make it accessible to all interested parties - for patient-oriented healthcare of tomorrow!
About AIQNET:
AIQNET is a digital ecosystem that enables the use of medical data across sectors in compliance with data protection regulations. The overall project is coordinated by BioRegio STERN Management GmbH, Stuttgart. The initiator and consortium leader is RAYLYTIC GmbH, based in Leipzig.
The consortium of 16 established medical technology and healthcare companies won the German government's AI competition in 2019 under the project acronym "KIKS." Since January 2020, the partners in the project have been developing the technical infrastructure and applications based on it. The focus lies on structuring data with the help of artificial intelligence while creating a legally compliant framework. This way, for example, in the future the performance and safety of medical devices can be measured objectively and largely automatically. Administrative tasks in health care, e.g. documentation, can be handled by corresponding applications. A special feature of the project is the close cooperation between industry, research and care.
With access to deep technical and scientific data, the ecosystem offers future partners the opportunity to develop their own health applications with minimal effort. They benefit from AIQNET's legally secure, validated framework.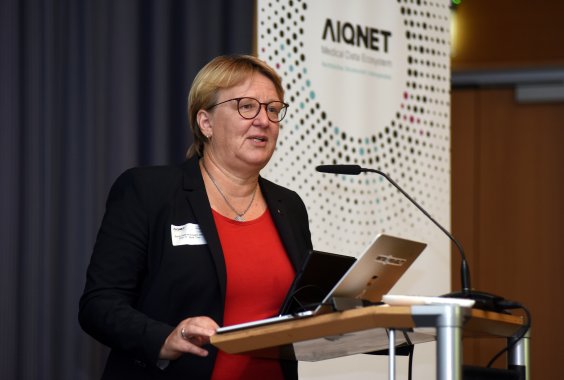 Copyright: Manuela Köhler/BioRegio STERN Management GmbH)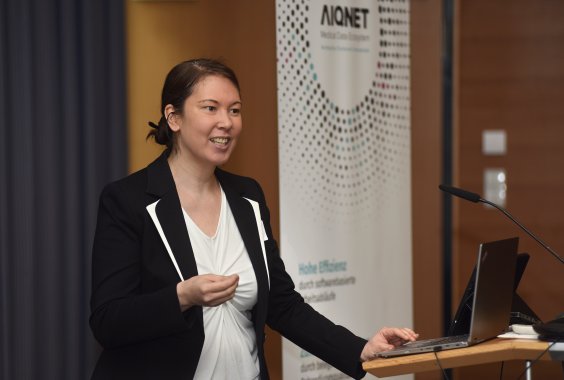 Copyright: Manuela Köhler/BioRegio STERN Management GmbH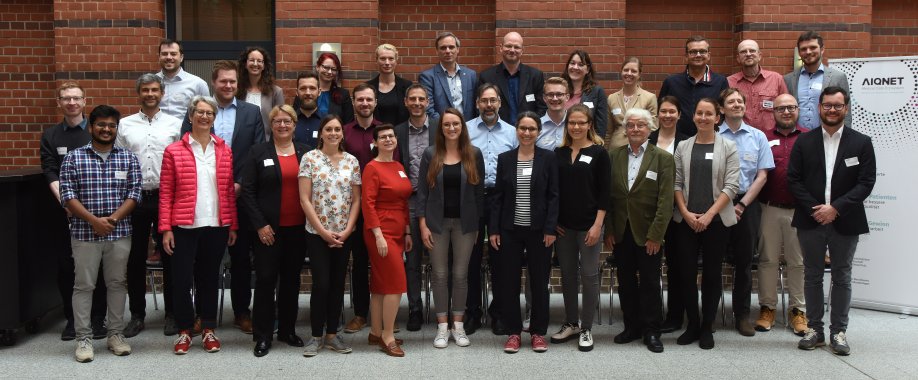 Copyright: Manuela Köhler/BioRegio STERN Management GmbH
Contact
BioLAGO e.V. – the health network                                                                                      
Byk-Gulden Str. 3
78467 Konstanz
Mail: eva.botzenhart@biolago.org
Phone: +49 7531-9215253
Source:
https://www.biolago.org/de/news/pressemitteilungen/details/zielgerichtete-digitalisierung-fuer-den-patienten.html