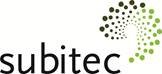 Subitec GmbH
Subitec offers systems for the industrial cultivation of microalgae and cyanobacteria, as well as the necessary preculture- and laboratory systems
More than twenty years ago Subitec started its activities with a strong focus on better understanding prerequisites and conditions of microalgae and cyanobacteria cultivation. Backed by this research know-how, Subitec nowadays has installed more than 50 production plants and supporting systems equipped with our proprietary FPA photobioreactors all over the world.
Subitec supporting systems are designed for optimisation of process parameters, creation of preculture and scale-up of culture.
Subitec production plants are designed to achieve remarkable output rates in constant quality, ensuring the delivery reliability demanded by the market.
Subitec FPA photobioreactors are focusing high value products especially for the food, pharmaceuticals, cosmetics, and feed market.
Subitec product range covers the whole production process for cultivation of microalgae and cyanobacteria including further refinement through gaining desired product formation to the harvest.
Contact
Contact person
Mr. Gregor Weber