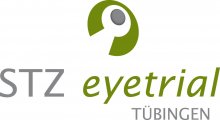 STZ eyetrial at the Center for Ophthalmology
Study centre of the Eyehospital Tübingen
The STZ eyetrial at the Center for Ophthalmology - study centre of the Eyehospital Tübingen - is a Steinbeis Transfer Centre (STZ) with fifteen employees. Our team conducts clinical studies of all phases and various diagnoses for and with the patients and doctors of the Eyehospital. The STZ eyetrial was founded by Professor Barbara Wilhelm, who has successfully managed it since 2004. On average, we supervise more than 30 projects with a wide variety of focal points. These include studies according to AMG and MPG, in some of them we also act as CRO.


Our range of services includes:
Clinical studies of all phases

studies with indications concerning the eye

Contact person for all study matters at the

Department of Ophthalmology

Planning of studies at the Department of Ophthalmology and other centers

Advice on the selection of suitable methods for various questions

Support of the administrative and regulatory concerns

Patient recruitment support

Data management, statistical evaluations, final scientific report

Device development and consulting

We conduct our studies strictly according to Good Clinical Practice (GCP). Our Evicr.net certified SOP system guarantees high standards.
Contact
Contact person
Prof. Dr. med. Barbara Wilhelm,
Dr. Tobias Peters (Tobias.Peters@stz-eyetrialde)