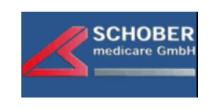 SCHOBER medicare GmbH
Development, production and sale of magnetic field therapy systems
Schober's equipment system for electromagnetic field therapy comprises a control unit and an applicator which generates a pulsing magnetic field. The applicators take the form of mats, cushions and/or cuffs, thereby facilitating local or full-body treatment.
The numerous areas of application include inflammatory and degenerative complaints of the musculoskeletal system, oxygen enrichment of the lungs and metabolic disorders.
The firm's pulsing magnetic field resonance systems can be used in both human and veterinary medicine.