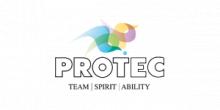 PROTEC GmbH & Co. KG
Specialist in generating X-ray images
PROTEC is based in Oberstenfeld near Stuttgart and specialises in medical imaging. The company's portfolio includes both analogue and digital products, which are continuously being developed and enhanced.
The analogue product range features various X-ray film development machines and corresponding equipment such as chemical mixers, x-ray cassettes and amplifier.
The company also uses its new archiving systems, software for medical image processing and computer radiography systems (CR systems) to harness the new opportunities offered by digital technology.
With its international dealer network, PROTEC operates in more than 100 countries worldwide, hence its high export share of approx. 95%. PROTEC runs its own joint sales venture in Hong Kong (PROTEC Asia) which exclusively serves the Chinese market.