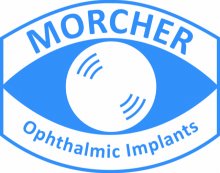 MORCHER® GmbH
Innovative products according to the highest quality
standards - that`s what the name MORCHER® implies.
The MORCHER® GmbH is one of the leading international manufacturers of medical products for eye surgery with a special focus on the area of eye implants.
As a specialist for intraocular lenses (IOL), the company develops implants for cataract surgery.
In addition, MORCHER® manufactures products such as capsular tension rings, aniridia implants, various special implants as well as special designs for individual requirements.
The foundation for the internationally successful history was initiated by Kurt A. Morcher. In 1955, in collaboration with Dr. H. Dannheim, he developed the first anterior chamber lens. Morcher`s Swabian inventive spirit, his diligence and perfectionism are still the main components of the company`s philosophy today.
The name MORCHER® stands for quality and innovation MADE IN GERMANY. With this aim, we develop, produce and distribute high quality products for medical eye surgery.
In close collaboration with leading researchers and ophthalmologists, as well as a network of selected specialists, MORCHER® manufactures products, which not only meet the market requirements, but are trend-setting creations.
Contact
Contact person
Mrs. Monika Joos