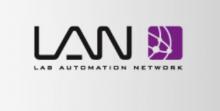 Lab Automation Network
Lab automation solutions from true technology leaders
Lab Automation Network unites technologically leading solution providers for your lab automation project:
system integrators, technology manufacturers, and service providers
with the best technologies in their specific area, top-quality solutions, and a strong customer orientation.
Our lab automation experts support you in all aspects of laboratory automation: from the search for suitable technologies to the selection of qualified suppliers out of the network. From requirements analysis to successful routine operation of your specific solution.
Contact
Contact person
Dr. Martin Winter