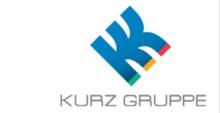 Kurz Kunststoffe GmbH
Kurz Kunststoffe knocks synthetics into shape – if it's conceivable, it's doable
Kurz Kunststoffe builds microsystems for use in the fields of medical technology, biotechnology, automotive, industrial technology and automation. Kurz Kunststoffe's areas of expertise are synthetics processing and toolmaking for top-quality technical synthetic parts. Our modern quality management infrastructure ensures top quality. We implement strategic process control (SPC) to ensure impeccable quality as well as documentation and traceability. Our offerings range from assembling components right through to fully manufacturing products including printing, testing and sterilisation as well as packing the products in sales packaging. Depending on the planned lot size, these tasks can be carried out manually or automatically. Fully-automated manufacturing stations are designed and built by our in-house specialists. Our products are used in medical technology, biotechnology, pharmaceuticals, automotive, manufacturing, and electronic construction elements. We develop products in collaboration with our customers. Each product must offer new, unique features. This has resulted in several patents and design prizes. Our sister company IKO Formen is a highly productive, proficient manufacturer of moulds and tools.
Areas of expertise are high-precision individual parts and components requiring a high degree of in-house production. Strict traceability measures and process documentation of the materials and process steps employed, as well as documentation closely aligned with the customer, are offered.
The Kurz Group is a dynamic technology firm that wows its customers with innovative products. Its mission is to develop and manufacture cross-industry, ready-to-use end products for use in the fields of medical technology and biotechnology as well as manufacturing. Its service encompasses the entire process technology chain – from the design of a component to its manufacture, and finally to its delivery – individually tailored to the customer's needs. Kurz Kunststoffe is an SME that is successful in the areas of 2K/3K with or without metal inserts for use in both the foodstuffs industry and in medical technology and hybrid cars, for example, bond frames. We focus on functionality and use cross-industry synergies from solutions in other industries. We have production facilities in Germany and Eastern Europe (Hungary) and a branch in the USA.
| | |
| --- | --- |
| Category | Medical technology |
| Management | |
| Year of foundation | |
| Employees | |
| Funding | |
| Certificates | |
Contact
Contact person
Rudolf Kurz