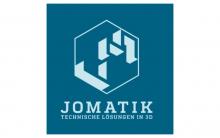 JOMATIK GmbH
JOMATIK combines classic industrial competence with the varied and fascinating possibilities of innovative 3D printing.
TECHNICAL SOLUTIONS IN 3D
At
Jomatik
we combine classical industrial engineering with the wide-ranging possibilities of industrial 3D printing. We work with selective laser-sintering (SLS), an additive manufacturing technique that uses a laser to bind polyamide powder together to create desired three-dimensional shapes. The results are efficient, custom-designed products. SLS manufacturing enables swift and cost-effective prototype, single-piece and series production.
In addition, the components can be individually refined in their function as well as in their optics.
As a young company we value the close exchange with our partners and clients. We see our customers' individual needs and the latest market trends as opportunities to expand our areas of expertise. Our quest for continuous improvement has allowed us to grow substantially over the past two years and become a trusted partner in the region, for our clients and suppliers. As we operate both as a design and a production service provider, we are able to make the most of the synergies for our customers.
Our service covers the entire manufacturing process: from solution-oriented product design and development, to single-piece and series production, to diverse finishing and post-processing techniques, to assembly and delivery – customized to our clients' individual specifications. All from one trusted source.
We always follow our vision: Jomatik gives shape to your ideas.
Contact
Contact person
Johanna Henger