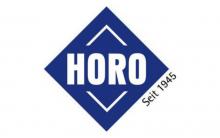 HORO Dr. Hofmann GmbH
Heating — Tempering — Humidifying — Cooling
Right after World War II in 1945 the company HORO Dr. Hofmann GmbH was founded by Dr. Ing. Arthur Hofmann and his brother-in-law Gerhard Roth. The trade mark HORO is the combination of the two family names Hofmann and Roth.
In the 90s the plastic, automation industries and the surface technology gave strong impulses to the market. Sophisticated plastic parts replaced many expensive metal parts, not only in automotive, but in all industries, including the medical technology. The surface technology achieved more durable coatings and material behaviour. We hat our share in these new developments. Again, after some years of growth, the building was too small and 1999 the build was extended and a big part of the production area got an additional floor on top. In 2004 Dr.-Ing. Gerhard Bosch took over the company from the founding family.
In the new century the solar industry, the wind power and the power distribution boosted the economy and we participated with our products. For sure there will be some new challenges in this and the next decade and we will act responsible.
In the meantime the following new technologies have been developed: The U-Dry- ultra drying cabinets, the humidification cabinets, the vacuum heating cabinets and the modern data acquisition systems.
| | |
| --- | --- |
| Category | Engineering |
| Year of foundation | |
| Employees | |
Contact
Contact person
Dr. Gerhard Bosch