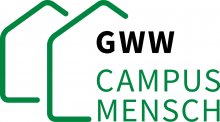 GWW - Gemeinnützige Werkstätten und Wohnstätten GmbH
Creating strong solutions together
GWW GmbH; a visionary southern German social institution for sheltered workshops and housing; has been developing progressive and suitable solutions for people with disabilities in the districts Böblingen and Calw for almost 50 years.  Education, employment, housing,  and care for senior citizen with disabilities are the company's main focus. Clients profit especially through the use of modern technologies and broad competence in the fields of automotive, medical techonologies, mechanical and electrical engineering and services.
In cooperation with Femos, 1a Zugang Beratungsgesellschaft and Stiftung ZENIT; social companies under brand of Campus Mensch; we offer solutions for a wide range of demands. As a certified company, GWW offers a wide range of assembly, production and logistics services.  For many years we have produced high-quality medical devices.
Due to our longtime experience with federal projects in the areas of digitalization and AI in the context of very heterogeneous user groups,we support studies.
We are open to a wide range of inquiries, as we have a variety of production, manufacturing and testing options at our locations.
Contact
Contact person
Thomas Kirn