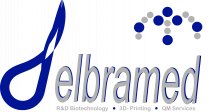 delbramed GmbH
The research and development of new materials as well as the optimization of existing materials is crucial for new technologies.
Delbramed GmbH specializes in research and development in biotechnology and medical technology with regard to new and sustainable materials and products. In addition to our research, we have an in-house laboratory at our disposal. Our core competence lies in the development of absorbable implant materials for use using additive manufacturing technologies.
We have been known for many years under branding delbramed in additive manufacturing and therefore continue to optimize process technologies. In constant exchanges with large corporations as well as professional associations and ministries, we have an extraordinary contribution to 3D printing in medical technology and biotechnology.
Due to our many years of experience in additive manufacturing technologies and all the processes carried out at our company, we offer our customers as a service "Schmankel" the complete production of prototypes until the market launch with patenting. Everything from drawing to creating a CAD model to the creation of the prototype is produced from a single source. Thanks to our many years of experience in the pharmaceutical and medical technology industry, we also offer our customers quality management services, which are tailored to the creation of new manuals for your company. We support our customers in the areas of qualification and validation, risk management and clinical evaluation for technical documentation.
Contact
Contact person
Herr Andreas Johannes Josef Lange