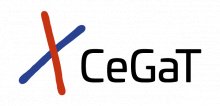 CeGaT GmbH
Decoding of genetic information and medical interpretation of the data
Changes in genetic material can cause serious disease. At CeGaT, our top priority is to identify these disease-causing genetic mutations in patients. To identify these changes, CeGaT offers sequencing services and medical evaluation of data to patients and their families. In addition to the confirmation of a suspected diagnosis, the results may support the use of therapeutic interventions which influence the course of disease.
CeGaT' s aim is to offer its customers a one-stop service. Therefore all steps are performed by specialists in-house. These include DNA isolation, enrichment and preparation of samples, sequencing, data analysis, and generation of a medical report by a team of experts.
The diagnostics we offer include Panel Diagnostics, Tumor Diagnostics, Exome Diagnostics, Single Gene Testing, and Pharmacogenetics. The Diagnostic Panels use state-of-the-art next-generation sequencing technologies to analyze all genes associated with the relevant disease in parallel. This service is offered for a large number of different disease types and is both more cost efficient and effective than traditional methods.
CeGaT GmbH was founded in 2009 by Dr. Dr. Saskia Biskup and Dr. Dirk Biskup, headquartered in Tübingen. For their ideas and concepts, CeGaT has been awarded two of the most important German economic awards; the Deutscher Gründerpreis in 2011, and Entrepreneur of the Year in 2013.
News
01.10.2020
Since October 1, anyone who would like to (or has to) be tested for active corona infections can come to CeGaT's premises without prior appointment. The result is available within…
29.09.2020
CeGaT has updated and expanded the Diagnostic Panel for Genetic Eye Diseases. As part of the regular updates, the panel was revised according to the current scientific knowledge,…