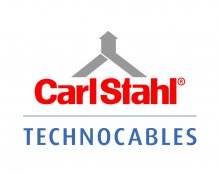 Carl Stahl GmbH Technocables
Carl Stahl TECHNOCABLES: Specialist for innovative steel cable applications
Bowden cables, strands and steel cables from Carl Stahl TECHNOCABLES provide what customers expect – dependable, tear-proof and long-lasting products for all industries.
There are many components to your product. Often, the elements that bring your products to life are our stable and durable cables. Wherever they are used, our steel cables live up to their promise. Benefit from our 130 years of experience.
We started out in 1880 as a small rope manufacturer for agriculture. Today, we operate worldwide as an innovative manufacturer and development supplier for a wide variety of industries. We have solid expertise and decades of experience in the production of bowden cables, strands and steel cables. Our own cable manufacturing plant, along with the research and development department at our location in Süßen, guarantees quality made in Germany.
Contact
Contact person
Gianni Silverii