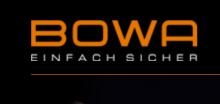 BOWA – electronic GmbH & Co. KG
Electrosurgery specialist (equipment & accessories)
BOWA-electronic is an innovative medtech company specialising in the development and manufacture of electrosurgical equipment and accessories.
BOWA is one of the few all-in-one solution providers and partners for everyday surgical application. The company's areas of activity include HF generators (BOWA ARC series), argon-plasma surgery (BOWA ARC PLUS series) and HF instruments for open, minimally invasive and ligation applications.
Click the following link for more information on the red dot design award received by the company in 2006: TissueSeal
BOWA-electronic is a partner of the University Hospital of University Hospital of Tübingen Experimental Operating Room and Ergonomics Lab.