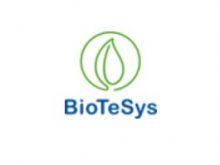 BioTeSys GmbH
Analysis of the biological function of active ingredients
BioTeSys GmbH offers customised solutions for analytical, in vitro, and clinical questions. The full service provider (certificated acc. DIN ISO 9001:2015) has been working in the field of biological and chemical analysis for 20 years. The examination and evaluation of effects of biological active ingredients in food, feed, cosmetics, and R & D is the core competence. Additionally, the sector analytical chemistry has been accredited according DIN IEC 17025:2018.
The range of services includes screening methods for measuring the bioactive potential of substances or substance mixtures by means of HPLC or photometry (accredited according to DIN / EN ISO IEC 17025:2018), in vitro test procedures using single cell cultures, cocultures and organotypic culture models as well as planning, coordination and conduct of clinical studies in the area food, dietary supplements, dietary foods for special medical purposes, cosmetics and consumer health care / OTC.
The interdisciplinary team of experienced and motivated staff members forms the core. A number of selected and reliable cooperation partners complete the wide range of expertise. BioTeSys provides a service concept with a modular structure. This highly efficient concept allows successful solving of extensive and complex assignments, plus a highly flexible and time-optimised service of high quality at favourable terms for the customers.
As reliable service provider BioTeSys stands for quality. The advantages of an external service provider are obvious: You save time, since we are working with state-of-the-art technology and the latest know-how at BioTeSys. You save money, as you no longer need to continuously modernise costly in-house analysis technology and finally, most importantly, your business and its staff can fully focus on their actual core competences. The experienced BioTeSys Team offers full service, develops customised solutions, and is the long-lasting, reliable partner for analytical, in vitro, and clinical questions.