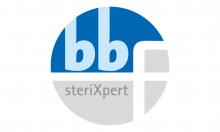 BBF Sterilisationsservice GmbH
We are service providers for manufacturers in the medical device and pharmaceutical industry and work for the safety of your products in the field of sterilisation, packaging, microbiology and biocompatibility.
BBF Sterilisationsservice GmbH is a young service company that also builds on decades of experience in the fields of sterilisation and microbiology.
BBF offers you support from the development to the sterilized product. Prerequisite is the safety and compliance with legal requirements and the documentation requirement. Maintaining an overview here requires competence.
In our company we employ scientists and engineers from the fields of biology, chemistry, microbiology, molecular medicine, packaging technology, nutritional and hygiene technology and offer our customers a wide range of services such as gamma sterilisation, packaging, microbiological testing and advice on biocompatibility.
Our experience serves as a basis for the development and implementation of new business ideas. Our professional analysis and consulting goes far beyond that.
Contact
Contact person
Dr. Norman Layh