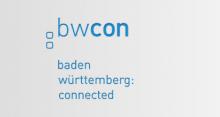 Baden-Württemberg: Connected e. V.
Business initiative for the promotion of innovation and high-technology in Baden-Württemberg
Baden-Württemberg: Connected e.V. (bwcon) is a leading business initiative based in Stuttgart. It promotes Baden-Württemberg as a location for innovation and high-tech and is one of the most successful technology networks in Europe, with over 450 companies and research institutions among its members. More than 4,500 experts benefit from systematic networking via the bwcon platform.
In the creative industries, healthcare, information and communication technologies and connecting technologies, bwcon provides a solid foundation for cross-sector technology application and interdisciplinary partnerships between suppliers, users and investors. The business initiative also provides an extensive range of consultation services for start-ups and expanding enterprises with its Coach & Connect programme.
The added value of Baden-Württemberg: Connected lies in the possibilities generated by new cooperations and by networking. Members offer members first-hand information through talks, working groups and consultation. Current interest topics are dealt with in greater depth in numerous Special Interest Groups (SIG), seminars and expert forums.
Baden-Württemberg's most important technology prize, the annual CyberOne high-tech award, targets young and expanding companies with innovative business concepts that create new impulses and set new standards.
The Federal Ministry of Economics and Technology (BMWi) in Berlin awarded first place to bwcon in its nationwide Competence Network 2008 competition in recognition of the network's innovative service and added value for its members.