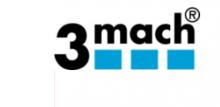 3mach GmbH
Hygiene solutions and products for the medical technology, diagnostics and medical sectors
3mach GmbH is an innovative hygiene company operating in the medical technology, diagnostics and medical sectors. The company develops, produces and sells practical solutions and products for instrument preparation and also develops cost-effective diagnosis methods for straightforward analysis of medically relevant surface contamination.
A further area of operation for 3mach is the development of innovative materials and products for medical applications e.g. for the regeneration of skin. Based on a tried-and-tested bio-compatible material concept, the aim is to offer cost-effective forms of treatment in a wide variety of areas.
3mach made a name for itself with its innovative highly flexible modular stand and component system for the hygiene technology sector. Highly flexible and secure mountings can be built using the components and assemblies. The extensive hygiene technology product range includes fixing elements, rotary rinsing lines, rinsing adapters, stand components and functional strainer baskets for instrument cleaning and logistics.