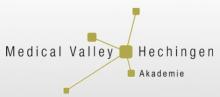 Medical Valley Hechingen Akademie e. V.
Strengthening of medical device companies
The competence network Medical Valley Hechingen was created in 2002 out of a landmark initiative of the City Hechingen. With the objective to strengthen the innovation and supply forces of medical technology companies based in the area Hechingen a competence network evolved with more than 45 companies in the medical technology sector, their suppliers and service providers, with more than 5,000 employees in the region.
With the creation of the "Medical Valley Hechingen Academy e.V." in 2009 the competence network has set the course for a successful future. In regular seminars speakers share their knowledge from the most diverse fields of medical technology.
In addition, the Medical Valley Hechingen Academy e.V. is a focal point for young medical technology students, entrepreneurs and start-up companies that receive full support of the members of the association. STERN BioRegion supports this compound by encouraging networking within the region and specifically promotes the collaboration with the biotech industry. The main medical devices are both medical instruments and appliances for diagnosis and therapy, as well as therapeutic disposables. All products are based on extensive development work. In Medical Valley not only specialists in the life sciences sector are welcome. First-class software and electronics companies, plant engineers and automation specialists are another prerequisite for a quick and efficient development.