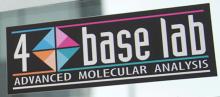 4base lab AG
Service provider in the field of genomics and proteomics; GMP analyses
4base lab GmbH was founded in 1996 and provides services in the field of genome and proteome analysis. These include DNA sequencing, protein analysis (N-terminal sequencing, Edman degradation, MALDI-ToF analysis), the production of BAC and PAC clones, gene expression analysis, in vitro mutagenesis, mRNA 5' mapping, polymerase chain reaction (PCR) analysis and cloning.
In the R&D sector, 4base lab primarily focuses on the development of assays for detecting viral pathogens. Quality assurance is carried out based on ISO 9001 standards for medical products, foodstuffs and life science consumables.
Drug testing involving DNA sequencing and real-time PCR is carried out in compliance with GMP standards.
4base lab GmbH has also developed the first CE-labelled test kit for the detection of all influenza A group viruses, which also includes the bird flu virus.
Contact
Contact person
Dr. Despina Tougianidou