Flexible robotic platform for the automated production of nanoparticles
The joint project APRONA starts on the 1st of September 2017 with a duration of two and a half years and a funding of around 2 million euros in the context of the funding program of the Federal Ministry of Education and Research, KMU Net-C, to promote SME-centric, strategic R & D networks in networks and clusters.
With the aim of a market-oriented technology development, APRONA is a pilot project in the cluster bringing together an engineering-driven SME, two life science SMEs and a Fraunhofer Institute. The project faces the challenge of an automated production of the diagnostic and therapeutic nanoparticle systems. As part of the APRONA project, SMEs, that are not yet regularly innovating, are involved in innovation networks and are merged with research institutes, enabling them to participate in their know-how.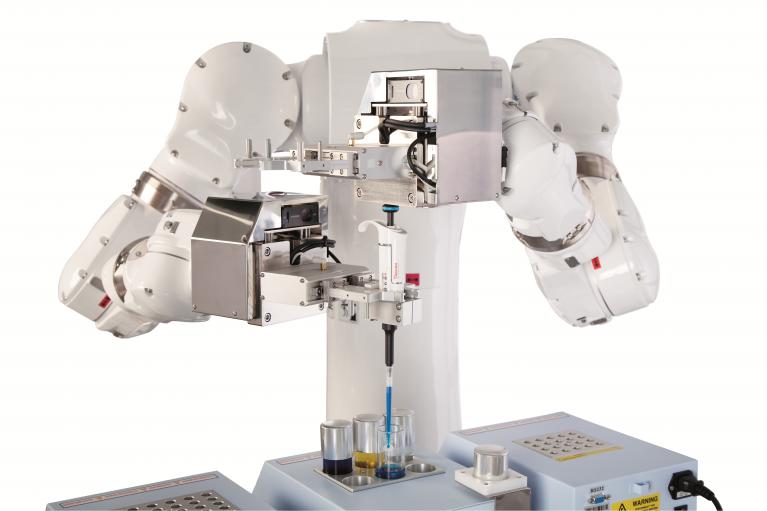 Nanoparticle-based technologies are among the core technologies of medical research and are also attractive to companies in the pharmaceutical industry. Numerous diagnostic and therapeutic nanoparticles are available thanks to major advances in material research. However, the sensitive manufacturing process does not yet benefit from the advantages of automation technology. One of the greatest challenges in the synthesis of nanoparticles is the establishment of manufacturing processes that ensure reproducible product characteristics while meeting the requirements of personalized medicine.
It is planned to implement the automation process using a two-arm robot system, which interacts with other devices. For this purpose, all devices and components of the plant have to be developed and combined in such a way that all required movement sequences, velocities, positionings, signal and measured value parameters ensure a sufficiently precise and reproducible production process. All devices must therefore be compatible with each other and can be combined.