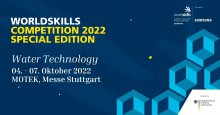 10/04/2022 - 10/07/2022 | Stuttgart
WorldSkills Competition 2022 Special Edition - Wasser Technologie
Location: Messe Stuttgart
WorldSkills is preparing a unique format for international skill competitions in 2022, showcasing 61 skills in 15 different countries and regions around the world. WorldSkills Competition 2022 Special Edition (WSC2022SE) is the official replacement for WorldSkills Shanghai 2022, cancelled in May due to the pandemic.
Thanks to the commitment of Partners and 15 Member countries and regions organizing the individual skill competitions, the dates and cities have been set. The 61 skill competitions will be held over 12 weeks, starting 7 September and ending 26 November 2022.
The countries and regions hosting skill competitions for WorldSkills Competition 2022 Special Edition are:
    Austria
    Canada
    Denmark
    Estonia
    Finland
    France
    Germany
    South Tyrol, Italy
    Japan
    Korea
    Luxembourg
    Sweden
    Switzerland
    United Kingdom
    United States of America
Over 1,000 Competitors from 58 countries and regions will participate in WorldSkills Competition 2022 Special Edition. These events reestablish the biennial cycle of WorldSkills Competitions, disrupted due to the pandemic. Ongoing monitoring of local and global pandemic controls will be incorporated into health and safety protocols for each skill competition.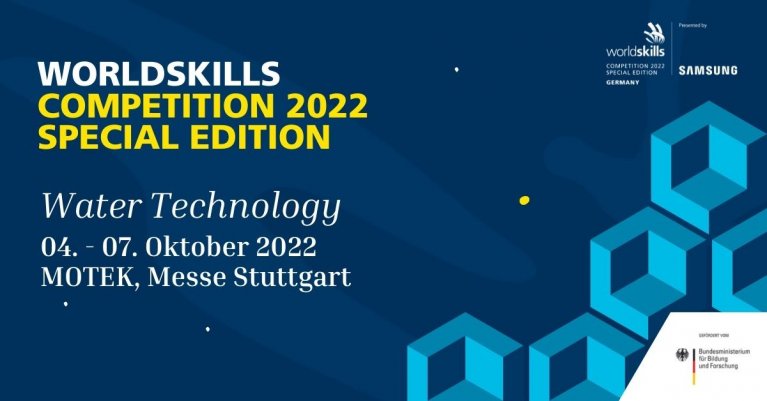 WorldSkills - "Water Technology" - Skill 55
Water supply engineering technicians and wastewater engineering technicians are both representing the new Water Technology Skill. Water Supply for households, industry and agriculture is needed. After this use the wastewater has to be given back to the nature in a clean way, too. Sludge treatment and rainwater management is also duties of this technician. 
Water for life - be a Water Technician - serve for people and protect the environment!
Water Supply Engineering Technicians work in municipal and industrial water supply companies. They carry out their work independently on the basis of technical documents and rules as well as on legal bases. Water Supply Technicians procure information, plan and coordinate their work. They document their services and take measures to ensure quality assurance, safety, health and environmental protection at work.
Whether working with water support or waste water treatment, the role of the Water Technician is to observe, identify, protocol, report, maintain, control and repair equipment and processes throughout the plant and the networks. For this purpose, they must have knowledge and expertise in mechanics, chemistry, biology, electrical, automation and environmental protection. Above all, health and safety matters most.
From October 4th to 7th, 2022, WorldSkills - "Water Technology" will take place at the Motek trade fair in Stuttgart. Participants from 7 nations will start. The mechatronics and Industry 4.0 skills will take place at the same time at the same location.
Under the motto "Water for Life, be a Water Technologist" ADIRO Automatisierungstechnik GmbH supports the "Water Technology" competition at the professional world championships with hardware, task ideas and manpower.