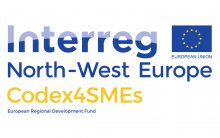 09/18/2019 | Galway
Codex4SMEs: Double session "Information and Networking" Event in Galway, IE
Location: Hotel Meyrick, Eyre Square, Galway, Ireland

Codex4SME's next double session event will take place in Galway, Ireland in September 18th, 2019.
A double session includes both, informative talks about the topics of regulation and market of IVD companies and a dedicated time frame to meet other key players, stakeholders or potential new collaboration partners.

Once you registered via Eventbrite, you will be invited to an online matchmaking tool 'congreet' to meet other participants beforehand.
Please find the preliminary agenda here:
 
09:00 
Welcome and Introductions
 

09:05

Introduction and overview of Interreg NWE Codex4SMEs project and the supports for SMEs
    Dr. Margot Jehle, lead partner of Codex4SMEs

 
09:20

Pathway to regulation and market for IVD companies and start-ups
    Diarmuid Cahalane, Metabolomic Diagnostics

 

09:40     

How to convince the investor to invest in your SME
    Ultan Faherty, Halo Business Angel Network

 

10:00     

The transfer of diagnostics tests from "bench to bedside"
    John O'Loughlin, Rotunda Hospital

 
10:30     
Tea break and parallel networking Part 1
 

11:00     

Evaluation of how different IVD's perform from clinical prospective
    Dr. Fergus Mc Carthy, Obstetrician, Cork University Maternity Hospital

 

11:30     

Engagement with Pharmaceutical companies
    speaker tbc, Roche Diagnostics

 
12:00     
Questions and discussion
 
12:30     

Lunch

 
13:00     
Networking Part 2
14:00

Overview of funding access and sustainability of projects witin European environment
    Jeanette Mueller, accelopment

14:30
Networking Part 3
15:00
Finish