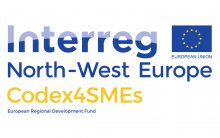 11/27/2019 - 11/29/2019 | Graz, AT
Codex4SMEs: Biobank course: How to build a biobank?
Location: Biobank Graz, AT
Please NOTE: There are only 3 available places!
Travel and accommodation are at one's own expense. However, for the participation of the course SMEs have to fill in the project application for knowledge transfer service (please find the application form below).  

Course information:
This interactive 3-day-course has been designed for all those who are involved in setting up a new biobank, who look to collaborate with a biobank or research institute, who face the challenges of a growing biobank or who try to overcome the challenges of maintaining a large biobank. The format of this course is a mixture of presentations and discussion sessions allowing participants to learn from the expert advice and the specific experience of their peers. Bring your questions with you for discussion!

This course is set up to:
Deliver the theoretical, operating and hands-on comprehensive knowledge essential to enable the activities of emerging and established biobanks.
Transfer best practices for biobank personnel, investigators, clinicians and interested personnel.
Encourage exchange of knowledge and skills across different biobanking activities from biospecimen preservation and storage to science and research.
Enhance research quality in and public awareness of biobanks.

Insights:
Definitions and types of biobanking, what and how
Governance types and possibilities
Biobanking ethics, privacy, informed consent and data security
Design and services of a biobank
Cost calculation and funding
Quality management and process improvement
Sample collection and processing (Fluid and Tissue)
Sample storage and retrieval
Biobank data systems and records management
Scripts, coffee & lunch breaks, 1 evening event, sightseeing tour in Graz are included!
Please click here for more information.

Please get in contact with codex4smes@medunigraz.at, if you are interested or if you have any questions.
Visit our Codex4SMEs website!
Additional Information: Application form of the Knowledge Transfer