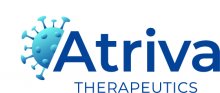 Atriva Therapeutics GmbH
Spearheading antiviral drug innovation
Atriva Therapeutics, founded in 2015, is a biopharmaceutical company that is pioneering the development of host-targeting antiviral therapies. It was set up by a team of leading scientists in viral research and seasoned industry experts. The company aims to develop a therapy platform to treat severe respiratory and systemic diseases induced by RNA viruses with a high unmet medical need, such as influenza and COVID-19. The Atriva lead product zapnometinib (ATR-002) is a first-in-class, host-targeting agent that aims to inhibit viral replication and to favourably modulate the body's immune response to RNA virus infections.
With its mechanism of action offering a dual benefit – antiviral activity and immunomodulation –zapnometinib is a promising therapeutic candidate, which holds strong potential in the current COVID-19 pandemic and beyond. The small molecule can inhibit viral replication and, at the same time, also prevent a cytokine storm and the associated disease progression to a life-threatening condition. This could fundamentally impact disease outcomes and can be beneficial for patients, their families and national health systems alike: Preventing serious disease courses reduces the number of critically ill people otherwise requiring ICU stays and the respective more invasive treatment options.
Zapnometinib has successfully completed a Phase I trial to demonstrate safety and tolerability in healthy subjects (NCT04385420). The company is actively enrolling patients in a Phase II study to evaluate efficacy in hospitalized patients with COVID-19 (NCT04776044). A Phase II in influenza is currently under preparation, as are further studies in COVID-19.
Atriva Therapeutics owns eleven patent families with broad international coverage related to the use of MEK inhibitors and other kinase inhibitors for antiviral therapies. The patent life runs through 2041. The company is based in Tübingen and Frankfurt/Main, Germany.
Contact
Contact person
Dr. Rainer Lichtenberger