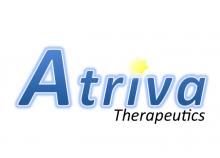 Atriva Therapeutics GmbH
Atriva Therapeutics is developing new superior drugs to fight the Influenza and other viral and bacterial infectious diseases of the respiratory tract, such as the MRSA (multiresistant hospital bacteria)
Atriva Therapeutics GmbH is a young company dedicated to combating acute viral infections such as real flu, but also MERS, SARS and RSV. Founded in April 2015, the company is headquartered in Tübingen, Germany. Founders are renowned virus researchers and seasoned executives from pharmaceutical industry.
The aim is to develop the world's first effective treatment for influenza. The novel cure aims at cellular factors in humans and does not attack the virus itself.
The approach has advantages over standard therapy, e.g. Tamiflu®:
Longer therapeutic window (up to 4 days)
Wide efficacy against known flu strains and new pandemic strains
Activity against bacterial infections of the respiratory tract
The risk of formation of resistant viruses is excluded.
The approach providesw superior clinical benefit to the patient, both in epidemics and in pandemic outbreaks when there vaccines in the early stages of the outbreak are not yet there, and in non-vaccinated patients.
Repurposing: Atriva uses active ingredients that have already been used in clinical trials. MEK inhibitors are a new class of drugs in oncology which, in contrast to classical chemotherapeutics, are very well tolerated. Atriva demonstrated high efficacy of MEK inhibitors against influenza virus in preclinical studies. We may thus enter the clinical trials without long preclinical work. We find a strong efficacy in severe viral diseases such as RSV, MERS, SARS and Hantavirus infections (D: 2000 cases / year!)
Rapid and low-risk development: Lead is the well-known active substance ATR-001 due to the favorable situation at Atriva in the protective rights. ATR-001 was discontinued in clinical development phase 2. We hold own patents to protect the application. We are pursuing a development program up to the clinical so-called "proof-of-concept" in clinical phase 2 in 3.5 years. We expect excellent tolerability of our clinical candidates because we 1) treat only 5 days and 2) the dose used is only 1/10 of the clinically tested doses.
Market: Every year around 10% of the adult population worldwide suffers from influenza, with 500,000 deaths entailed. Endangered are elderly patients with diseases of the respiratory tract (smoker's lung!) and the cardiovascular system. Atriva expects sales of up to 600 Mio. Eur in 2026 (through licensees)
The company has closed a seed funding of 1.5 million EURO in late 2016.
Contact
Contact person
Dr. Rainer Lichtenberger